Another one of our alumnae recently was recognized for outstanding work as a graduate student.
Jessica Shahan '08 received an award for Outstanding Graduate Student Research at the University of North Dakota, where she is studying the habitats of songbirds in Midwest prairies. The research requires long hours and intense focus, but she was ready for this work thanks to her degree from Randolph-Macon Woman's College, she said.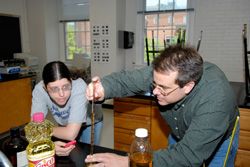 Jessica Shahan worked with chemistry professor
Bill Bare on a summer research project exploring
how to turn frying oil into diesel fuel.
"I love being out in the middle of North Dakota at dawn and knowing that I totally have it handled," she said, adding that the educational foundation she received from the College's rigorous academic program helped prepare her for graduate school. "After that, fieldwork is not so hard."
Shahan studied environmental science and biology as an undergraduate. For the Summer Research Program in 2006, she explored methods of turning frying oil into biodiesel fuel. She later received the Myers Scholarship, funded by Martha Myers Smith '38, to study options for global warming solutions.
For her master's project, Shahan is trying to determine how the landscape around a pocket of prairie land affects the birds that live there. Most of the grasslands in that region have been taken over by agriculture, limiting the habitat for many birds. "We've taken these birds that used to live all across the Great Plains and corralled them to these little fragments of prairies," she said.
"It's a very big question and involves a very large-scale project, and it requires a large amount of time," Shahan said. She drives to 29 sites at least twice a year to make observations, and she also has been converting aerial photos into digital maps of the study areas.
In April, Shahan presented some of her research at the national conference of the U.S. Chapter of the International Association for Landscape Ecology.
Shahan hopes her research arms wildlife managers with information that they can use to focus on helping prairie lands that need the most attention. She plans to pursue opportunities in biology education and environmental outreach. "And I still want to be able to do some research," she said. "I'd like to have it all."